Berikut ini panduan cara menampilkan QTY ON HAND pada Report Sales By Item :
1. Report | Index to Report | Sales Report | Sales By Item

2. Jika sudah muncul, klik Modify.
3. Ke Tab Available Column | double klik Calculated Field 1. Kembali ke Tab Selected Column and Filter , ceklist Calculated Field1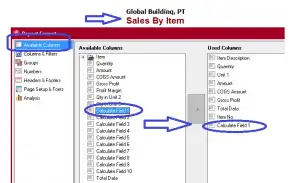 4. Klik Designer | Tab Data, double klik SQL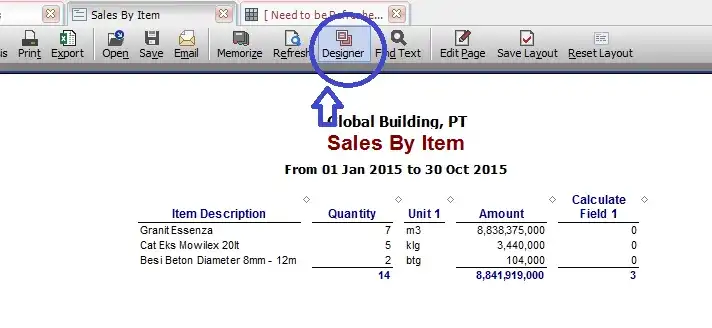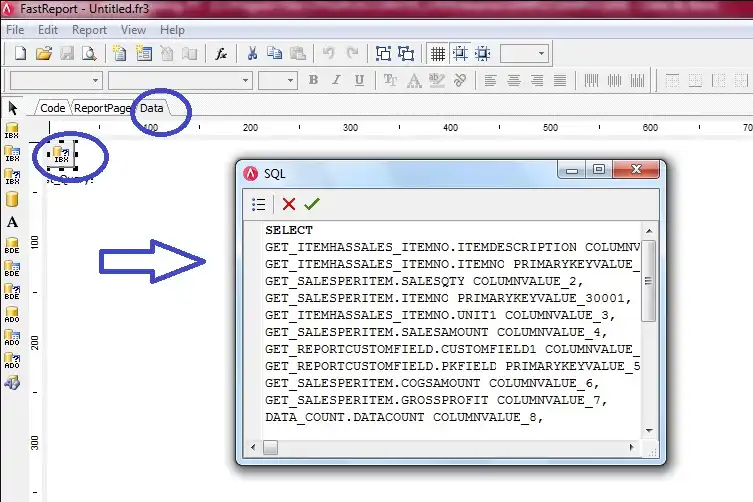 5. Hapus semua SQL disana, lalu copy kan rumus berikut :
SELECT
GET_ITEMHASSALES_ITEMNO.ITEMDESCRIPTION COLUMNVALUE_1,
GET_ITEMHASSALES_ITEMNO.ITEMNO PRIMARYKEYVALUE_1,
GET_SALESPERITEM.SALESQTY COLUMNVALUE_2,
GET_SALESPERITEM.ITEMNO PRIMARYKEYVALUE_30001,
GET_ITEMHASSALES_ITEMNO.UNIT1 COLUMNVALUE_3,
GET_SALESPERITEM.SALESAMOUNT COLUMNVALUE_4,
GET_SALESPERITEM.COGSAMOUNT COLUMNVALUE_5,
GET_SALESPERITEM.GROSSPROFIT COLUMNVALUE_6,
DATA_COUNT.DATACOUNT COLUMNVALUE_7,
DATA_COUNT.DATACOUNT PRIMARYKEYVALUE_60001,
GET_ITEMHASSALES_ITEMNO.ITEMNO COLUMNVALUE_8,
GET_REPORTCUSTOMFIELD.CUSTOMFIELD10 COLUMNVALUE_9,
GET_REPORTCUSTOMFIELD.PKFIELD PRIMARYKEYVALUE_50001
,GETITEMQUANTITY.QUANTITY QTYONHAND 
FROM
GET_ITEMHASSALES(:PARAMDATE1, :PARAMDATE2) GET_ITEMHASSALES
INNER JOIN ITEM GET_ITEMHASSALES_ITEMNO ON GET_ITEMHASSALES.ITEMNO=GET_ITEMHASSALES_ITEMNO.ITEMNO
LEFT OUTER JOIN GET_SALESPERITEM (GET_ITEMHASSALES.ITEMNO, :PARAMDATE1, :PARAMDATE2) ON GET_SALESPERITEM.ITEMNO=GET_ITEMHASSALES.ITEMNO
LEFT OUTER JOIN GET_ENHANCEDUNITITEM_RPT (GET_ITEMHASSALES.ITEMNO, GET_SALESPERITEM.SALESQTY) ON GET_ENHANCEDUNITITEM_RPT.ITEMNO=GET_ITEMHASSALES.ITEMNO
LEFT OUTER JOIN GET_REPORTCUSTOMFIELD ON 1=1
LEFT OUTER JOIN DATA_COUNT ON 1=1
LEFT OUTER JOIN GETITEMQUANTITY (GET_SALESPERITEM.ITEMNO, :PARAMDATE2, -1) ON GET_SALESPERITEM.ITEMNO=GETITEMQUANTITY.ITEMNO_QTY 
WHERE 1=1 
AND ((GET_SALESPERITEM.SALESAMOUNT<>0) OR (GET_SALESPERITEM.SALESQTY<>0))
ORDER BY
GET_SALESPERITEM.SALESAMOUNT DESC
6. Klik Tanda centang, lalu ke Tab Report Page. Double klik kolom Calculated Field tadi, lalu ganti rumusnya menjadi :
[First_Query."QTYONHAND"]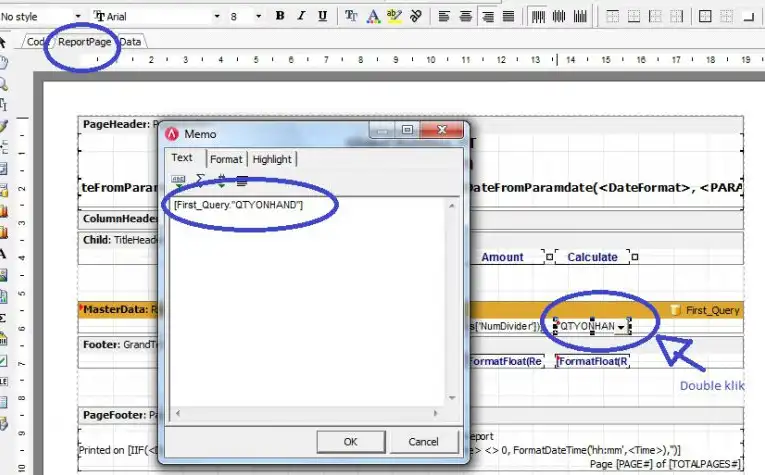 7. Tutup tampilannya, pada kotak Box penyimpanan, klik YES, save File FR3 Designed Report di folder mana saja misal di Desktop dengan nama yg di inginkan.
8. Selanjutnya, akan tampil QTY ON HAND pada laporan tersebut

9. Untuk mengimport file FR3 yg sudah di Save pada Desktop tadi, ikuti cara pada https://penjualanresmiaccurate.com/2017/08/07/import-export-laporan-terdesain/